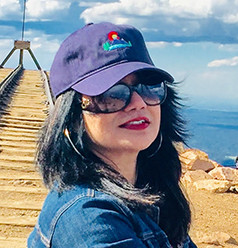 Sylvia Pandit, Writer, migrated to USA from Bangladesh, Ex Cultural secretary of Bangladesh Association of Columbus Ohio (BACO)
Some people say those who are involved with music will go to hell. Some people say those who practice music is a sinner. I want to ask them if music would be prohibited then how would we find peace in music? How would we write beautiful lyrics? How would we make the beautiful tunes to form a song? If God would not give us the power to make a song no one would be able to do that. I consider music as a heavenly gift. No one can sing if Allah, God or Vogoban would not be so kind with the person. He gives us everything - no one would be able to sing if He would not be so kind to the person who sings. 
I find music in everything. When the sky is cloudy and the weather is windy I find  music there. The sound of strong wind brings me rock and roll effects. When the sky is loaded with heavy clouds then the clouds start shouting, that sound makes me feel as though someone is playing percussion in the sky and that sound brings me Jazz effects. When it is raining I find it rhythmic because every drop has a certain rhythm so it is bringing me the feeling of percussion. When there is a breeze, that  makes me feel someone is singing, because I feel the sound of breeze is a beautiful tune, we just need to write lyrics to form a song with the tunes that the breeze brought us. I feel music everywhere. We just need to use our sixth sense to get that. 
I was very fond of music since I was a little girl. My elder sister used to learn music, her music teacher used to come to our residence to teach her music, I used to listen to her learning music while playing in the garden. It was a great fun for me to watch my sister learn music staying in the beautiful garden. Sometime I used to sit besides my sister to enjoy music while she was singing. My second elder brother was very much fond of music too , he was a good singer as well. He used to play percussions, he was a good guitarist too. Since my childhood till now I am very much proud of my family because all my family members are fond of music. Not only music, but they are trying their best to keep our culture on our blood. 
Is music prohibited in Islam? Sometime I get confused regarding this issue. As I already mentioned I am very much fond of music, without music I can't and don't want to survive. Music brings me oxygen, peace, inspiration to move forward. When I am frustrated music brings me hope and inspires me for moving ahead.
Some Muslim consider music is prohibited in Islam. I strongly oppose that thought, I believe music is allowed in every religions. I am a practicing muslim, I feel good when I pray. We start praying after Azaan (call for prayer). To me Azaan is a sweet song  because it has a lovely tunes and it contains beautiful lyrics also, so our prayer start with a kind of music. If Azaan would not have tunes no one would go for praying with a happily after Adhaan. When a Muslim performs Adhaan to remind the other Muslims about their prayer time, the Muslim can't avoid Salah , because Adhaan has the melodious tunes and the lyrics as well that's why Muslim can't avoid Adhaan  and stand in front of Almighty to perform Salah. Sometime we pray staying in the home, sometime we pray in the mosque. I must say Muslim prayer start with music and the music is nothing but Adhaan. 
CONTINUE