Debasish Chattopadhyay
The Bengalis where ever they live always try to present a picture of unity. They try to form a platform of unity whether they are in abroad or in their own land.
They try to unite themselves giving all sorts of expressions those include emotional, pride, failures, weakness or aristocracy. Of course, they do all these without crossing the limit because they are always in the habit of practicing endurance and sobriety.
With a view to welcoming Bengali new year (1426BS) a pure adda session was organized by Bangla Wide World (BWW) at Muktaram Babu Street on May 5. It was organized in a purely Bengali style and was presented in such a manner that all those who were present had a unique chance to travel in those by gone days of Bengali culture.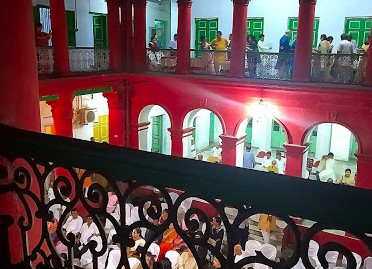 Not only the participants but all were dressed in pure Bengali dresses either in Dhoti and Punjabi or Pajama and Punjabi. Everyone was in a very light mood.
The adda session was marked by the presence of a number of luminaries from different fields who presented a pure and perfect programme which bemoaned the audience for hours together.
The session was dotted by light comments, songs, recitation and narration of personal experiences by noted litterateurs, singers, and dramatist. The participants have made clear dents in their own arena like judiciary, health, literature, culture and what not. But they were without any boasting and artificiality.
The programme started with a song of Gurudev Rabindranath Tagore .. ' Anandadhara bahiche Bhubena, sung by Debarati Som and luminaries like former Chief Justice Chittotosh Mukherjee, former Chief Justice and Governor Shyamal Sen, litterateur Buddhadev Guha, Physicians Kunal Sarkar, Sukumar Mukherjee, former Chief Secretary Amit Kiran Dev, former player Sukumar Samajpati, Dramatist Rudraprasad Sengupta, Poet Pankaj Saha, were spell bound.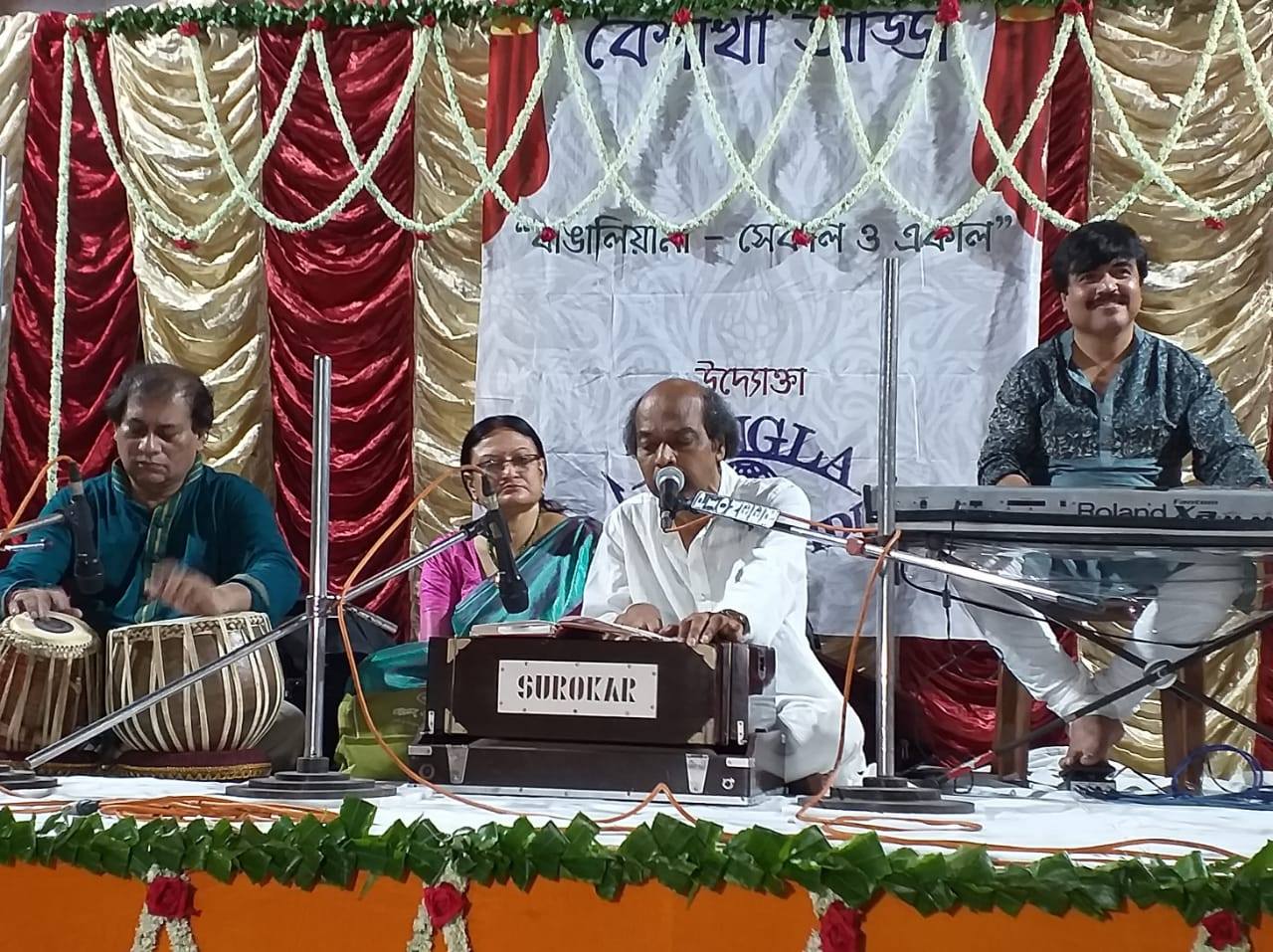 After the song the Adda session got a real twist when Buddhadev Guha asked the young Bengali ladies to court love in Bengali and it will obviously help to spread Bengali language.
Guha is really a man of versatility. He has earned reputation not only as a writer but also a singer. So when he was requested to sing a song he started singing without wasting a moment. He has an extreme sense of humour and it became evident when he claimed a fee for his song. Moreover, he also tested the listeners as he was dropping a line and or two to judge whether the listeners were listening to his song.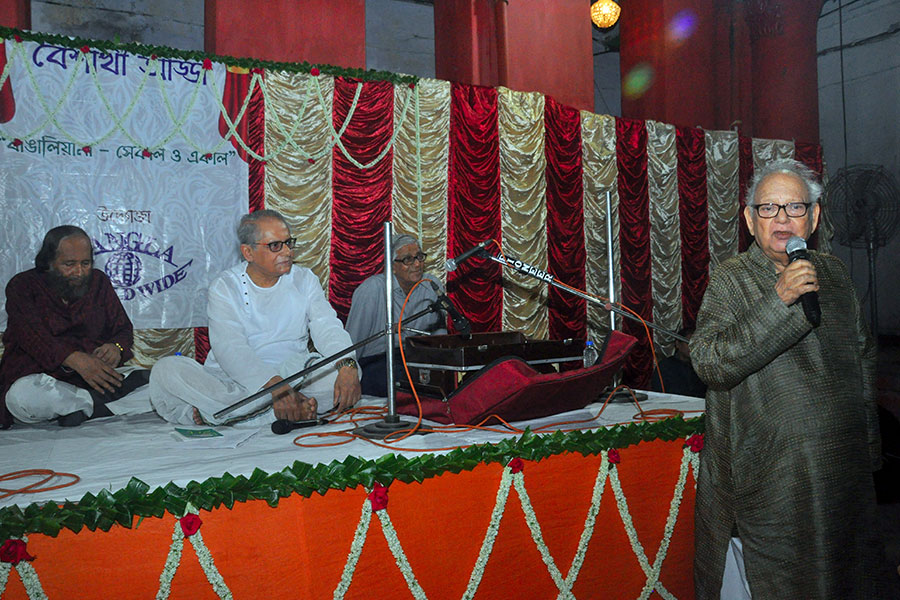 Sukumar Mukherjee while narrating his personal experience as a physician presented a very unique picture. He told in a very lucid and simple language that during the British era when a European went to the house of a zaminder he used to talk in Bengali but now the picture is becoming opposite. He said that it may be the fact that the world could not be won by Bengali language but everyone should know his culture and language. It must be remembered that Bengali is one of the sweetest languages of the world, he added.
He made it clear that his schooling was in Bengali. He started to study in English after taking admission in medical science but never faced any problem. He feels that Bengali should be introduced at all the levels. He informed that he talked in Bengali while opening the UK chapter of Bangla World Wide. Sharing the opinion of Sukumar Mukhrjee another noted physician Kunal Sarkar made it clear that he prescribes medicines in Bengali, however, he lamented as he has to face trouble while doing so.
Sukumar Mukhrjee made it clear that the primary aim of Bangla World Wide is to create a real tie without creating any discrimination based on caste or religion. He praised the role of Bangladesh for taking a laudable initiative to develop and spread Bengali language.
Rudraprasad Sengupta critised the role of families and schools while teaching the kids. For example he said that sometimes some 'come here' to address a kid and also a pet.
Of course, he was not bereft of humour. He said that a husband points out mistakes of his wife throughout the year but try to heal it by offering a gift on the marriage anniversary day. He reminded that this endeavour should not end such.
Sukumar Samajpati, a renowned footballer created a hilarious situation when he narrated his experience when he went to France. After visiting a jewellery shop initially they were speaking in English but a peculiar situation was created as the French lady could not understand them. Then finding no other alternative they started to speak in Bengali and miraculously all the problems were solved.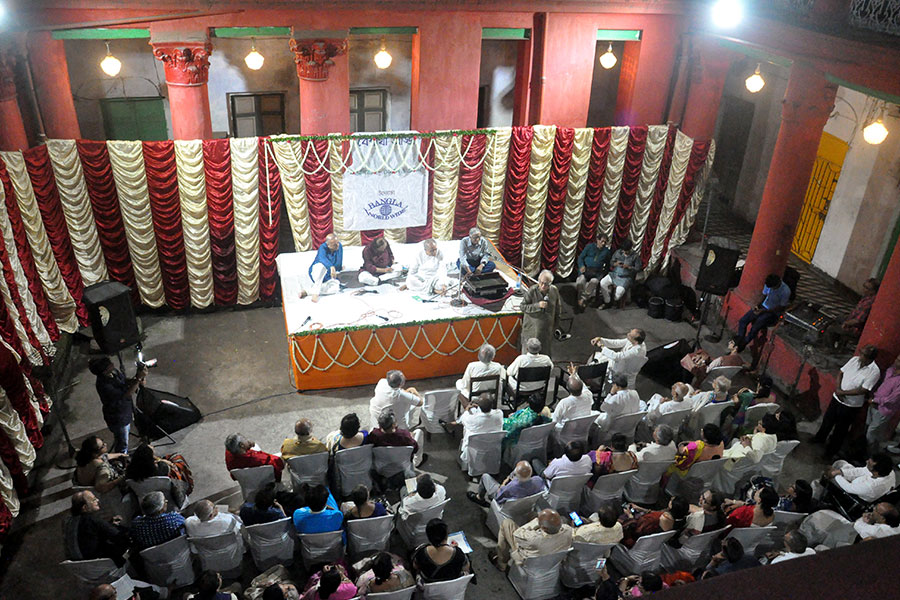 Pankaj Saha, read out a poem and narrated his experience while working in BBC. He said that in the UK now Bengali is spoken as third language. The moderator of the proramme Anindya Mitra invited everyone to speak in Bengali and advance Bengali literature and culture.
Others who were present on the occasion included Justice Ashok Ganguly, Justice Samaresh Banerjee, Justice Soumen Sen, Advocate Jayanta Mitra, Sutirtha Bhattacharya, Ex-Chairman of Coal India, D.N.Ghosh Ex-Chairman of SBI, Educationist Asok Thakur, Manimala Das and Saikat Moitro. Biswajit Ganguly, IAS.
Members of BWW Health domain
Dr. Asoke Konar,Dr. Sujit kar Purkayastha,Dr. Abhijit Tarafdar, Dr. Basudeb Mukherjee, Dr. Debashis Chakraborty and Deputy Director Medical Education Dr. Krisnangshu Roy.
Dhiman Das of K.C.Das, Pradip Nag of Bhim Nag, Pritin Nandi of Nakur.
Every one left the place with a sweet memory and with a promise to meet again in order to advance Bengali language and culture through out the world.